How Do You Write a Cease and Desist Letter for a Trademark Infringement?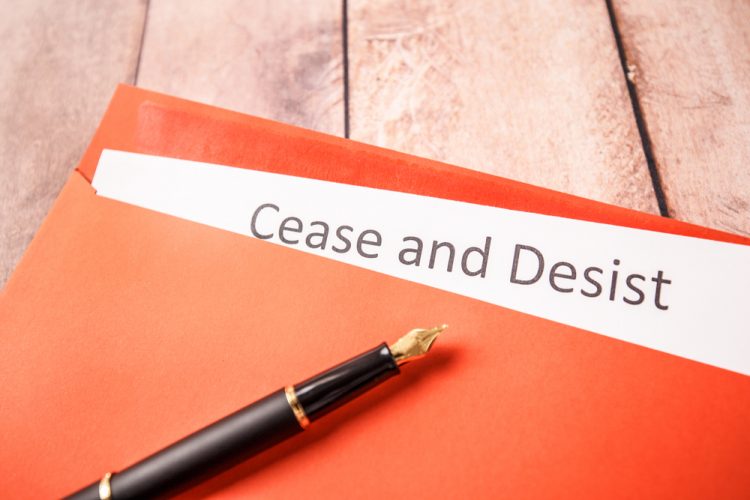 Firstly, BEFORE you write a cease and desist letter, consult with your trade marks attorney to ensure you are within your rights to be writing one. There are no doubt templates available to help a trademark owner write a letter of demand for trademark infringement, but the bigger question must always be ensuring you have the write to be sending it.
Writing the letter itself may not seem overly complicated, but taking the DIY approach can become more complicated and messier than you might assume.
Writing your own letter, without first seeking appropriate advice, can expos an individual or company to liability for breaches of the Trade Marks Act 1995 as operates in Australia. There's actually a provision in the trademarks act that prohibits individuals from sending unjustified threats of infringement. While most people don't intentionally send threats that are unjustified it does happen because they think that they're justified.
But, if you're not a trademarks attorney, you don't necessarily understand what your rights are, and the nature of and scope of your rights. It is possible to have similar, and even identical, trademarks being used by different people concurrently – that doesn't necessarily mean that there's an infringement. It really depends on all of the circumstances and the history of the matter.
So the first step should be to consult with a trademarks attorney or an IP lawyer to understand where you stand and precisely what your rights are. Just because you have a registered trademark doesn't automatically mean that somebody else out there who was using your trademark or a similar trademark without your authorisation is infringing your rights. They may be, but you need to be aware of all of the circumstances before making an assumption that they are, and certainly before sending a Cease and Desist letter.
We have seen more often than we should people that have sent out a letter of demand to someone without fully understanding whether they have the right to do so. Generally speaking, when it happens, they make mistakes. Sometimes the mistakes they make are not so serious that they're putting themselves at risk of legal action against them for instance, for making unjustified threats. Other times though the mistakes they make are so serious that they are exposing themselves to potential legal liability.
As one example,  we have seen a case of an individual repeatedly sending these letters to other people claiming those people were committing trademark infringement. He was monitoring the trademarks register for anybody who applied for a trademark that he felt was similar to his, and then he would send them a letter. We acted for one of these parties on the other side, and this individual sent them a letter accusing them of infringing his trademark, because they were using a similar mark in relation to different products to those covered by his trademark registration. The scope of his trademark registration did not cover those products, and it didn't even cover a similar products. Yet, he believed in his mind that he was right, and that the other side was infringing his trademark. But he was wrong. Even after he was told that he was wrong, he refused to believe it. Following this, the parties engaged in various disputes, both before the Trade Marks Office in Australia and even in the Federal Court of Australia and whilst we cannot disclose the specifics at this time, we can say that our client has so far been found the 'right' party in the disputes, with the individual not being successful in such claims and associated actions.
Beware of the Risks in Writing Your Own Cease and Desist Letter
If you do choose to send your own cease and desist letter, and then are told by the other side's representative that that it's unjustified and that there is no infringement but you continue to make threats or allegations, you are at risk of legal action being brought against you. For instance, we have seen situations where a trademark owner believes they're right, sends a letter – and even tries to interfere with another party's business by contacting their distributors, posting on their social media, and making threats, which could land them in very deep water. Such conduct could land the letter sender in court with perhaps a judgement against them – AND damages. Obviously, that's the worst case scenario, but these are the risks you're looking at if you engage in unjustified threats that are flagrant.
Be Aware of the Other Party's Rights
Another situation where it can be detrimental to write and send your own cease and desist letter – even if the letter sent is not an unjustified threat is inadvertently sending it to a third party who actually has prior rights. Even if that third party doesn't have a trademark registration, they may have prior rights in their trademarks so they may actually have a clear defence to a trademark infringement claim, and depending on circumstance may even have a stronger claim against the person sending the letter.
This becomes particularly risky where the person sending the Cease and Desist letter doesn't quite have their trademark registered yet, so they might have an accepted application. In that case you certainly shouldn't be sending a Cease and Desist letter in any event as you don't yet have the registered right to do so.  But sometimes that occurs, and the person they send it to it realises that actually they'd been using their trademark since an earlier time, and if the trademark is the same they could then oppose registration of your trademark and say that they're the true owner.
There are certainly a lot of factors that need to be considered. You can have yourself in a situation where you're effectively putting another person on notice of your rights, and if their rights are stronger than yours, either due to their reputation or just their prior use, they may actually have a claim against you.
Recommendations
We naturally recommend parties involved in a trademark infringement dispute are represented. We encourage parties to engage trademarks attorneys or IP lawyers with trademark law experience in these matters. If seeking advice and assistance from your business solicitor, be sure they have relevant experience in trademarks law to properly assist.
Assuming you are represented, we recommend ensuring your representative is aware of any and all facts and circumstances and any relevant history, particularly if there's a history between the parties.
For example if there's been any communication between the parties historically or recently, it's very important that your attorney is aware of that. They also need to be aware of the history of your own use and registration of your trademark.